Home Page Our Shop and Location Spring Creek Fishing Report Keys To Successful Dry Fly Fishing Links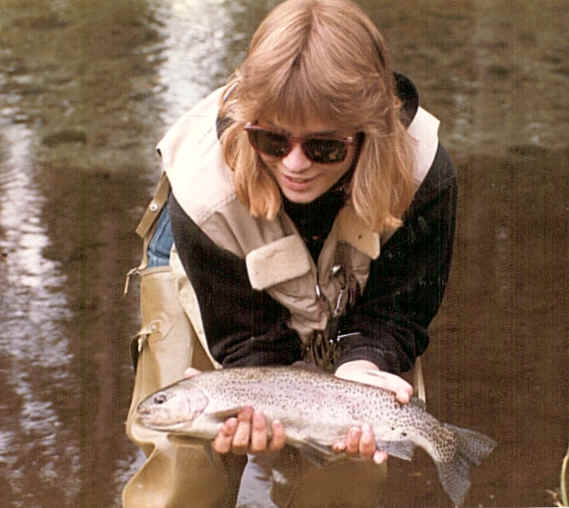 Buzz's Spring Creek Fishing Report – June 14, 2019
We are seeing sparse Midge hatches on calm mornings and evenings, there are still a few cream colored Baetis along with sparse PMD hatches mid day. The nymph fishing is still good.
There are sparse Midge hatches happening on calmer mornings and evenings. My favorite Midge patterns have been: our Captive Midge, a Harrop CDC Hanging Midge, a Buzz's CDC Midge, a Harrop CDC Emerging Midge or a Harrop Gray Adult Midge all in sizes 20 to 22. A great pattern to trail off any of these is Gary's Midge Pupa, a WD-40, a Miracle Nymph or a Zebra Midge all in sizes 18 to 20.
The Baetis hatches are very sparse on clear sunny days and a little better on dark days. They have been occurring mid day. These Baetis have the same coloration as a PMD My favorite patterns have been a small PMD patterns in an 18 0r 20 like a PMD Comparadun or a PMD Sparkle Dun
The PMD hatches are just starting and are still sparse. We are seeing them mid day. My favorite patterns are a PMD Comparadun (16-18), a PMD Sparkle Dun (16-18), a PMD CDC Biot Comparadun (16-18), a PMD Mole Fly (18) and a H & H Biot PMD Emerger (18).
The warmer weather has made Terrestrial fishing effective. Ants and Beetles are working along the banks. My favorite patterns are a Jimmies Tri Ant (18-20), a Hi Vis Foam Ant (20), a Foam Beetle (18) or a Harrop CDC Beetle (16).
The Nymph fishing has been pretty good. There are various Mayfly nymphs available to the fish along with Midge Larva and Pupa, Scuds, Sow Bugs, Caddis Larva, Sawyer Pheasant Tails and WD-40's have all been very effective.
Most of the flies suggested above are locally tied and have been developed especially for the Paradise Valley Spring Creeks by the Spring Creek Specialists Fly Shop.
We now have over 500 patterns just for the Paradise Valley Spring Creeks, including 65 patterns by Rene Harrop.
Many of the fly patterns mentioned can be seen at www.depuyspringcreek.com. Just follow the link to fly patterns. All of our patterns are available for sale by contacting us by email at basini@mcn.net or calling us at 406 222 5664.
Spring Creek Specialists 2742 East River Road Livingston, MT 59047
Tel: 406 222 5664 Fax: 406 222 0428 E-mail: basini@mcn.net