Home Page Our Shop and Location Spring Creek Fishing Report Keys To Successful Dry Fly Fishing Links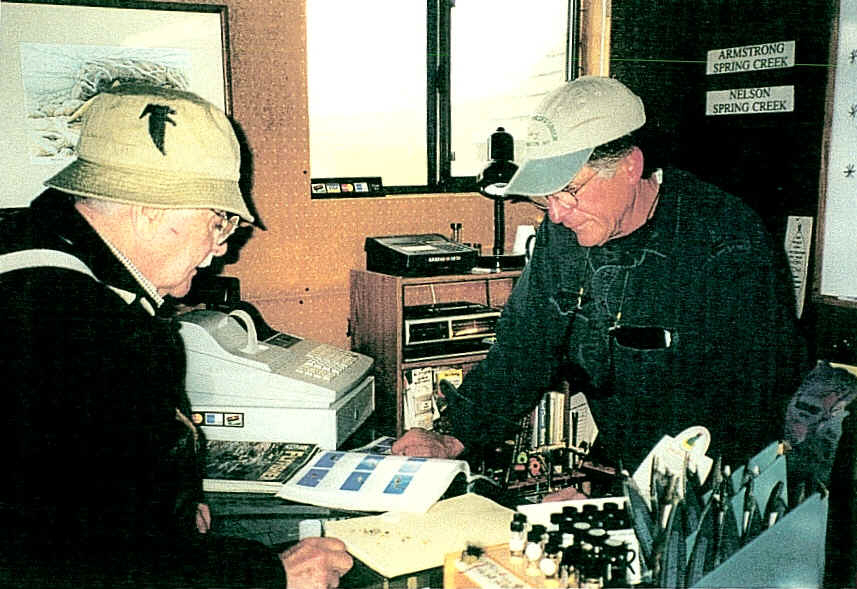 Sylvester Nemes showing Buzz some of his Soft Hackles
Our Shop
We specialize in the Paradise Valley Spring Creeks: DePuy, O'Hair and Nelson Spring Creeks.
We carry over 500 fly patterns; all especially selected for the Paradise Valley Spring Creeks. We have every pattern you need to be successful on the Creeks and any other Western Spring Creek or Tail Water.
Our shop has the best selection of Spring Creek flies in Montana. Many of our patterns are tied by local Montana tiers and were developed just for the Paradise Valley Spring Creeks. You will not find these patterns anywhere else.
Just bring your rod and reel and we have everything else you will need to fish the Spring Creeks. Fishing Bags, Flies, Fly Lines, Line Cleaners, Wader Repair Kits, Gravel Guards, Wading Socks, Landing Nets, Tippet, Leaders, Bug Spray, Sunscreen, Sun Glasses, Fly Boxes, Rain Gear, Gloves, Sun Gloves, Magnifiers, Floatant, Split Shot, Nippers, Forceps, Caps, Hats and just about every other gismo and gadget you can imagine or will ever need. Also you will have the choice of several brands or styles of these items.
Everything in the shop is priced competitively with other fly shops.
Location
The shop is located about 6 miles south of Livingston, Montana on the upper end of DePuy Spring Creek next to the Fisherman's Hut.
Since the shop is located right on DePuy Spring Creek, Buzz Basini, the owner, has the opportunity to fish the Creek almost daily. So we always know the latest hatches and fishing conditions.
For a current Paradise Valley Spring Creek fishing report or if you want to know what to expect on the Spring Creeks any time during the year just give us a call at 406 222 5664 or E Mail us at basini@mcn.net.
Spring Creek Specialists 2742 East River Road Livingston, MT 59047
Tel: 406 222 5664 Fax: 406 222 0428 E-mail: basini@mcn.net